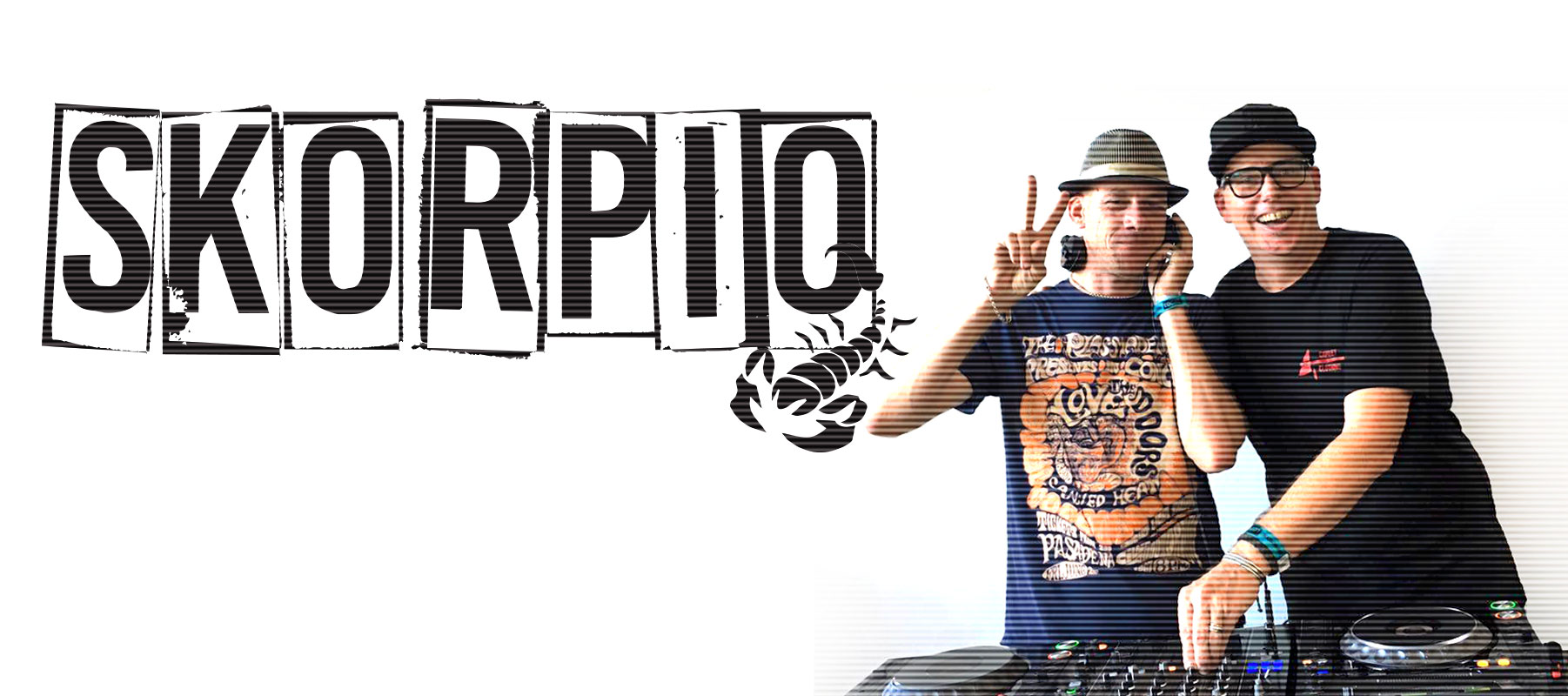 Skorpio (Aus)
David Sparkles Madden
Shane Skerik
Producers of nu disco grooves and deep, soulful and funky house music.
Skorpio is the BrisVegas production duo of David Sparkles Madden and Shane Skerik.
Fresh off the mark in 2015 the boys have been churning out some smooth nu disco and deep house remix groovers combining deep, soulful and funky vibes for discerners of quality tunes.
Both sharing a birthday on 3 November and holding down years of experience as professional DJ's, Shane is the production gun and Sparkles the go to guy.
Currently with their 2nd Release The Plan on Yes Yes Records and a stack of Remixes in just over 2 years, the boys are keeping it real.
Expecting big things from the Skorpio sting with their Remix of M1 – If Everybody Looked The Same, being included in the pack that went to #8 in the ARIA Club Chart in 2017 for Vicious Recordings and Olsen ft Red London – King of My Castle currently at #19 in 2019!
JANUARY 2019
EVENTS
SYNDROME THE MET 2017
LISTEN OUT 2017
STEREOSONIC 2015
DISCOGRAPHY RELEASES
DIGGIN' IN THE SAND
UNRELEASED OCT 2017
---
THE PLAN (ORIGINAL MIX)
(REMIXES BY DIAMOND LIGHTS & BOOGIE KNIGHTS)
#71 – ARIA CLUB CHART
YES YES RECORDS
 AUGUST 2017
---
GROOVER SHAKER FT DIZ ZY J (ORIGINAL AND DUB MIXES)
(REMIXES BY DATE NIGHT, DIAMOND LIGHTS, ANDREW LYNCH & BOOGIE KNIGHTS)
YES YES RECORDS JULY 2016
---
DISCO JUICED
UNRELEASED OCT 2014
REMIXES
OLSEN FT RED LONDON – KING OF MY CASTLE (SKORPIO REMIX)
BREAK POINT RECORDS
#19 – ARIA CLUB CHART
---
LAUREN NEKO – MY BODY CAME HERE TO DANCE (SKORPIO + STREET LEVEL REMIX)
RELEASE DATE NOVEMBER 2018
---
BOOGIE KNIGHTS – RUNNING (SKORPIO REMIX)
HI-TECH RECORDS
RELEASE DATE NOVEMBER 2018
#28 – ARIA CLUB CHART
---
DIAMOND LIGHTS – DIP DIP (SKORPIO REMIX)
YES YES RECORDS
RELEASE DATE OCTOBER 2018
#54 – ARIA CLUB CHART
---
DIAMOND LIGHTS – TEASING ME (SKORPIO REMIX)
YES YES RECORDS
RELEASE DATE JUNE 2018
#41 – ARIA CLUB CHART
---
ADAM MADD – THIS IS ME (SKORPIO REMIX)
YES YES RECORDS
RELEASE DATE MAY 2018
#82 – ARIA CLUB CHART
---
DIAMOND LIGHTS FT ZOHAR – ON THE WEEKEND (SKORPIO REMIX)
YES YES RECORDS
RELEASE DATE APRIL 2018
#48 – ARIA CLUB CHART
---
M1 – IF EVERYBODY LOOKED THE SAME (SKORPIO REMIX)
VICIOUS RECORDINGS
RELEASE DATE NOVEMBER 2017
#8 – ARIA CLUB CHART
---
DIAMOND LIGHTS FT ZOHAR – REMEMBER THAT LOVE (SKORPIO REMIX)
YES YES RECORDS
RELEASE DATE NOVEMBER 2017
#46 – ARIA CLUB CHART
---
DIAMOND LIGHTS FT ZOHAR – WHERE WERE YOU (SKORPIO REMIX)
YES YES RECORDS
RELEASE DATE SEPTEMBER 2017
#42 – ARIA CLUB CHART
---
DIAMOND LIGHTS FT ZOHAR – ADDRESS (SKORPIO REMIX)
YES YES RECORDS
RELEASE DATE MAY 2017
#64 – ARIA CLUB CHART
---
CIRCA 92 – THE MELODY
(SKORPIO REMIX FT ANT AGGS)
KLUB KIDS
RELEASE DATE MAY 2017
#27 – ARIA CLUB CHART
---
BOOGIE KNIGHTS – FEEL IT IN YOUR SOUL (SKORPIO REMIX)
YES YES RECORDS
RELEASE DATE APRIL 2017
#83 – ARIA CLUB CHART
---
DIAMOND LIGHTS – ALL NIGHT (SKORPIO REMIX)
YES YES RECORDS
RELEASE DATE JANUARY 2017
#47 – ARIA CLUB CHART
---
REECEY BOI FT WHISKEY PETE – CONTROL THE SOUND
(SKORPIO REMIX)
VELCRO
RELEASE DATE NOVEMBER 2016
#27 – ARIA CLUB CHART
---
DIAMOND LIGHTS – SAY PARTY (SKORPIO REMIX)
YES YES RECORDS
RELEASE DATE OCTOBER 2016
#55 – ARIA CLUB CHART
---
ELLA  FERDINANDS – CHEMISTRY (SKORPIO REMIX)
BOOSHU
RELEASE DATE SEPTEMBER 2016
---
DIAMOND LIGHTS – SO GOOD INSIDE (SKORPIO REMIX)
YES YES RECORDS
RELEASE DATE AUGUST 2016
#82 – ARIA CLUB CHART
---
DATE NIGHT FT SAMUEL JAMES – BURIED HEART
(SKORPIO REMIX)
YES YES RECORDS
RELEASE DATE APRIL 2016
#81 – ARIA CLUB CHART
---
DIAMOND LIGHTS FT ZOHAR – THE LAST DROP
(SKORPIO REMIX)
YES YES RECORDS
RELEASE DATE JANUARY 2016
#61 – ARIA CLUB CHART
---
DATE NIGHT FT KEARNA – COAST TO COAST
(SKORPIO REMIX)
YES YES RECORDS
RELEASE DATE NOVEMBER 2015
#41 – ARIA CLUB CHART
---
DIAMOND LIGHTS – DON'T WANNA LET GO
(SKORPIO REMIX)
YES YES RECORDS
RELEASE DATE OCTOBER 2015
#74 – ARIA CLUB CHART
---
PHONATICS & BARBARA TUCKER – PARTY
(SKORPIO REMIX & SKORPIO DUB)
YES YES RECORDS
RELEASE DATE OCTOBER 2015
#59 – ARIA CLUB CHART
---
DATE NIGHT – STAY
(SKORPIO REMIX)
(UNRELEASED) OCTOBER 2015
---
ISAAC JAMES FT LISA SHAW – CAN'T HOLD OUT
(SKORPIO SUNSET REMIX)
(UNRELEASED) AUGUST 2015